Dianne Spitalny
 was principal flute of The Chappaqua Orchestra (now Orchestra914) for 35 years.  She is a founding member of TCO Winds and 
Northern Westchester Flutes
. She has performed with the Norwalk and Stamford Symphony Orchestras, the Metropolitan Wind Symphony of Boston, and the Sherwood Woodwind Quintet,  and the Spianato Winds  as well as, the Northern Pennsylvania Philharmonic and the Taconic Opera. 
She received her Bachelor of Music from Ithaca College and a Master of Music from the New England Conservatory of Music. She has studied flute with Paula Robison, Murray Panitz, Samuel Baron, John Heiss, David Berman and James Pappoutsakis; and, conducting under Frederick Fennell.  

She has served as a NYSMAA Adjudicator as well as a Sectional Coach. She taught instrumental music in the Chappaqua Central School District and currently teaches students privately in her studio. 

Dianne has taught in the New York, Massachusetts and New Jersey public schools and has served on the faculty of the Westchester Conservatory of Music, Marymount College and the Center for Chamber Music in Greenwich, Connecticut.

Dianne taught a Flute Ensemble class helping flutists discover the joy of playing in a flute choir through Chappaqua's Continuing Education program and currently teaches a Flute Ensemble privately. 

Ms.Spitalny is also a member of  TCO Winds; Northern Westchester Flutes; and, the Spianato Winds and has been featured in The New York Flute Club's Newsletter.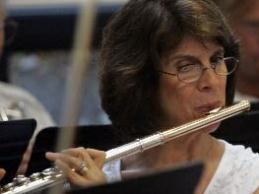 Call us at (914) 263-6711

Flute Instruction & Performance